PRIORITY PROGRAM
"Material Synthesis near Room Temperature"

---

Coordinator & Contact

Summary

Projects of the 2nd Funding Period

Projects of the 1st Funding Period

Mercator Fellow, 2nd Funding Period

Mercator Fellow, 1st Funding Period

Job Vacancies
PUBLICATIONS & AWARDS

---

Overall List, 2nd Funding Period

Overall List, 1st Funding Period

Media Reports
EVENTS

---

Lectures

Kick-off Meeting

Workshop on Synthesis Strategies in Ionic Liquids

Scientific Writing

Mid-Term Report Colloquium

Patent Law

In situ Methods

2nd International Conference

Career Development/Posdoctoral Proposals

Archive
MEASURES FOR EQUAL OPPORTUNITIES

---

General Information

Be WISE and Succeed

Mentoring for schoolgirls in
the STEM disciplines

Chemistry Camp 2018

Girls' Day 2018

Girls' Day 2019

Archive
LINKS

---

Chair of Inorganic Chemistry II
Conference on Equal Opportunities
---
Be WISE - Women in Science and Engineering - and Succeed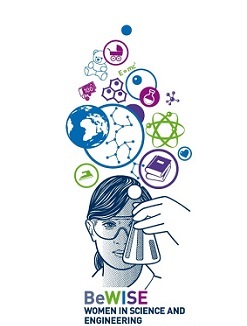 Short description
After 2016, TU Dresden organises again a conference which is addressed to female young scientists and junior research group leaders of selected DFG coordinated programmes at TU Dresden.

Besides keynote speeches by renowned researchers, the three-day conference will provide an opportunity for the participants to attend numerous workshops (parallel workshops in English).

During a fireside chat with experienced female professors (role-models), the participants will be able to get into a conversation with them on pathways in research and possible obstacles. Moreover, this conference is especially suited to establish networks among researchers of different DFG coordinated programmes.
Date
14/11/2018 - 16/11/2018
Venue
Innside Dresden
Registration
by 30/08/2018 using the registration form
Registration fee
participation is free of charge
Conference's website
http://www.tu-dresden.de/bewise
Outline
Accommodation
We reserved for you a limited number of rooms at the Innside Dresden.

CURRENT EVENTS

---
RECENT PUBLICATIONS

---
CONTACT

---
Project Assistant



Alina Markova, M.A.


Phone: +49 351 463-31692
Fax: +49 351 463-37287
Email:
spp1708(at)chemie.tu-dresden.de
Office:



Bergstraße 66,
Neubau Chemische Institute,
Room 455

Mail to:



TU Dresden
Fakultät Chemie
und Lebensmittelchemie



Professur für Anorganische Chemie II



01062 Dresden
Bulk mail to:



Fakultät Chemie
und Lebensmittelchemie



Professur für Anorganische Chemie II



Helmholtzstraße 10
01069 Dresden